A Years-Long Construction Project on the Kennedy Expressway Will Begin Tomorrow. Here's What to Know – NBC Chicago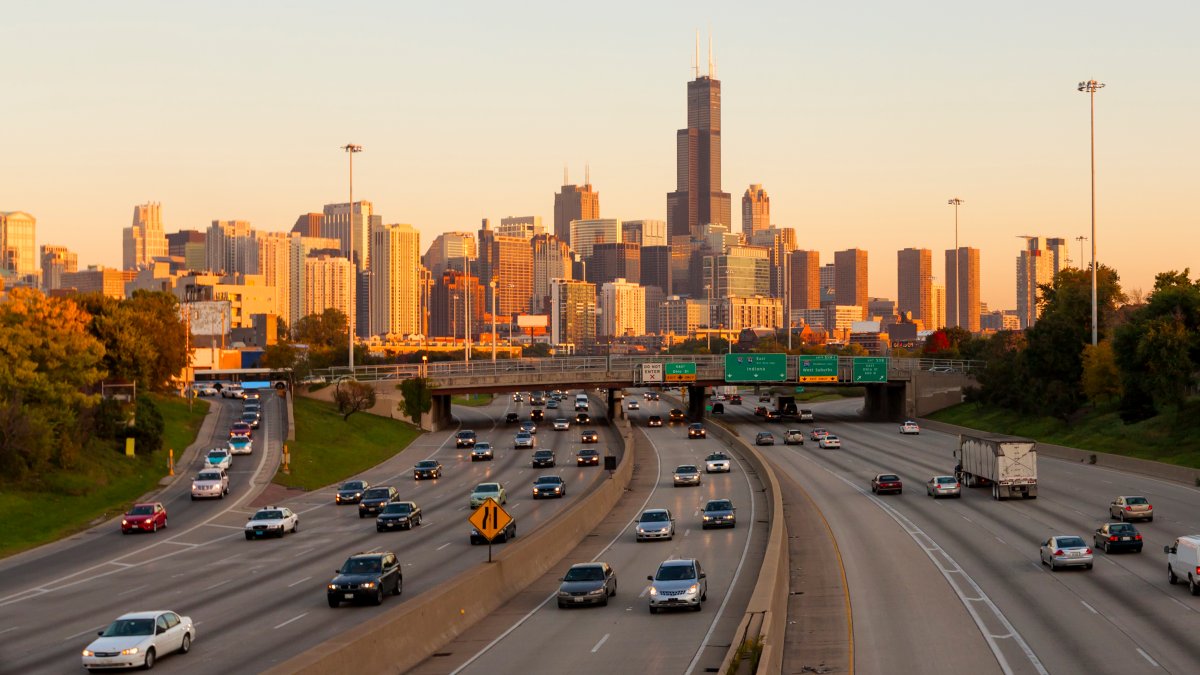 A construction project on a highly-trafficked 7.5-mile stretch of the Kennedy Expressway will begin tomorrow evening, with the change expected to cause extensive delays and increased travel times for the foreseeable future.
The years-long project is slated to begin Monday evening at 10 p.m., marking the beginning of the work that is planned to run through at least the fall of 2025.
While the project has several phases, lane closures and major traffic impacts are expected for the duration of the work.
Transportation officials have suggested that commuters adjust their work times or work remotely if possible, with public transit also suggested as an option,
The upcoming construction will likely see impacts for both public transportation and inbound and outbound commutes.
Here's what you'll need to know:
Where will the construction take place and for how long?
In all, the work will take place in three stages that will continue over three "construction seasons," with an expected end date of fall 2025. Still, officials stressed that the schedule is "weather permitting" and could be subject to change.
Here's what the Illinois Department of Transportation says to expect:
Stage I – Inbound Kennedy
Two mainline inbound lanes will be closed at a time. To help minimize the impact to traffic the reversible express lanes will remain open in the inbound direction and motorists will not be able to exit the express lanes until Armitage Avenue. Lane shifts and overnight lane closure, along with various ramp closures will be needed to complete the work. Later this summer, painting and the installation of new LED lighting will begin on inbound Hubbard's Cave, between Ohio and Lake streets. Construction is anticipated to be completed later this fall, with all lanes and ramps reopening and the express lanes resuming normal operations.
Stage II – Reversible Express Lanes
The reversible express lanes will be closed to accommodate rehabilitation of the REVLAC system and bridge structures, along with pavement patching. In addition, mainline lane closures will be needed to accommodate painting and the installation of new LED lighting in both directions of Hubbard's Cave, between Ohio and Lake streets. Construction is anticipated to begin in spring 2024 and be completed in fall 2024.
Stage III – Outbound Kennedy
The reversible express lanes will remain open in the outbound direction, while two mainline outbound lanes will be closed at a time. Lane shifts and overnight lane closure, along with various ramp closures will be needed to complete the work. Additionally, new LED lighting installation and painting will be completed on outbound Hubbard's Cave, between Ohio and Lake streets. Construction is anticipated to begin in spring 2025 and be completed in late fall 2025.
When do lane closures begin?
The first lane closures will begin starting at 10 p.m. Monday.
"So Tuesday morning … the motoring public is going to see these two left lanes closed on the inbound," said IDOT's Bureau Chief of Construction Jon Schumacher. "The reversals will be in the inbound configuration permanently 24/7 for the rest of the year." And starting about a week after that the full seven and a half miles will be staged. It's just that's the part of the Kennedy that when it was built, that's the section that was built in this the time that it was programmed to do it."
The initial steps will be to simply put "the work zone in place."
"Work initially involves setting up the work zone and gradually reducing the 7.5-mile stretch of the inbound Kennedy down to two through lanes," IDOT said in a release. "Crews will put up barriers starting at the Edens junction moving south to Ohio Street. This process is scheduled to take place each night from 10 p.m. to 5 a.m. the following morning and is expected to take approximately one week for the work zone to be in place."
What is the full timeline?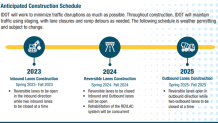 Which areas will be impacted most?
While this year's work will center on the inbound construction, leading to many delays, outbound commuters can also expect to see some additional traffic as express lanes will remain in the inbound direction for the rest of the year.
Public transportation will likely also see an increase in ridership, though some agencies are already increasing their presence in anticipation.
What can I take instead?
IDOT officials urged drivers to adjust their schedules or find alternate modes of transportation during the construction.
"Look for alternate routes, take Metra, take CTA," Schumacher said. "We've also recommended that people look into maybe staggering their work times. So if they could start a little a couple hours earlier, they might be able to avoid the worst of the rush hour traffic. And then similarly, with coming off the pandemic, a lot of people were able to work remotely. So if some people that are able to work remotely, if that's something that they're able to do, that's also going to help us minimize some of the traffic impacts that we're gonna see."
Metra announced this week that it was revising its schedule on the UP Northwest Line beginning April 3 to add 12 trains to its weekday service lineup.
"Metra has been monitoring ridership as well as customer feedback, and these schedule changes respond to ridership trends and increase capacity and convenience by expanding peak period as well as off-peak service," Metra CEO and Executive Director Jim Derwinski said in a statement. "And with a major multiyear rehab project scheduled to start on the Kennedy Expressway, this new schedule allows Metra to provide more commuters with a viable and much less stressful alternative to driving."
IDOT has also suggested commuters exit earlier and use arterial roads for their commutes, though they noted that it may be a process of trial and error.
"Just find the route that works best for you," Schumacher said. "And it's not going to be … the first route that you take on Tuesday morning might not be the best one. Keep trying different alternates and see what works for you based on your travel time and your destination and that should help minimize your impacts."
Why is this construction happening?
The estimated $150 million project includes "rehabilitating 36 bridge structures and the Reversible Lane Access Control (REVLAC) system, replacing overhead sign-structures, installing new signage and modernized LED lights, pavement patching and structural painting." Hubbard's Cave, from Grand Avenue to Wayman Street, will also be painted and new LED lighting will be installed, IDOT said.
Denial of responsibility! Vertical Lobby is an automatic aggregator around the global media. All the content are available free on Internet. We have just arranged it in one platform for educational purpose only. In each content, the hyperlink to the primary source is specified. All trademarks belong to their rightful owners, all materials to their authors. If you are the owner of the content and do not want us to publish your materials on our website, please contact us by email – admin@verticallobby.com. The content will be deleted within 24 hours.